I love the idea of a button swap, not only do I get to find some great blogs (and great people!) but maybe I'll get more traffic to Lucky Chickadee.
Since I'm not ready to actually ask for sponsors, a button swap seems like a pretty darn good idea.
Jump over to
Hello Night Owl
to swap with Vanessa (since she gave me the idea!)
So please grab my button then send me an email or comment with a link to your blog and I'll grab yours!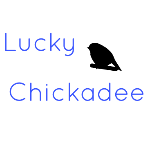 meghan(dot)wagner2(at)gmail(dot)com