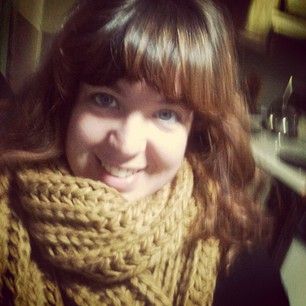 loving this infinity scarf I got for my birthday!
Reading: The Happiness Project by Gretchen Rubin. When I first picked up this book from the library I thought it would a "How to" on building your happiness project, but it was more her sharing her own. I really like that actually, it's inspiring to read how she made changes and could look inside herself without judgment to change. The chapter I really took a lot from was her marriage month, it really pinpointed some things that even I do in my relationship and made me want to change for the better, and happier.
Watching: New Girl. If there is any show on TV that I care about missing it's New Girl. I love Zooey Deschanel, and everyone else on the show I must say. The relationships are hilarious and it's a show that always makes me smile.
Working On: school work. I believe this is the first time in my life that I actually enjoy my homework. Although at this moment I am putting off drawing thumbnails that are due tomorrow. Every class I'm taking it either inspiring my creative side or building a strong technical, problem solving mind.
Anticipating: finally seeing my exam schedule for this semester so I can book a flight to see Duncan. I'm hoping to head to Vernon the week before Christmas and come back on Dec 23 with my sisters. I would have loved if Duncan could have come the Island but alas his job doesn't allow him to have time off, lame.
I hope everyone's enjoying their Sunday!